A SMILE YOU'LL LOVE, 
AN EXPERIENCE YOU'LL ENJOY
GET AN UNIQUE RESULT IN 3-4 DAYS
7
Years of Dental Experience
Well Hello There, Welcome to

Venedik Dental Clinic 
We are the most modern clinic in Antalya with most advanced equipments to give you the best quality dental treatments.
Our prior mission is to provide gentle, efficient, and transparent dental treatments. You will have your dream smile in 4-5 days.
We always warm-welcome our clients and you can't wait to have your new smile whilest you enjoy the your vacation within a week.
Schedule your complimentary consultation today, and experience the difference of our service and professionalism.
Firstly we will examine your situation and speak to you about your goals for dental treatment.
Our staff and dentists will discuss with you our recommendations, helping you make the most educated decision.
Happy Patients (Testimonials)
Before&After Gallery
What We Offer
Dental Packages Turkey Prices
What We Offer
General Services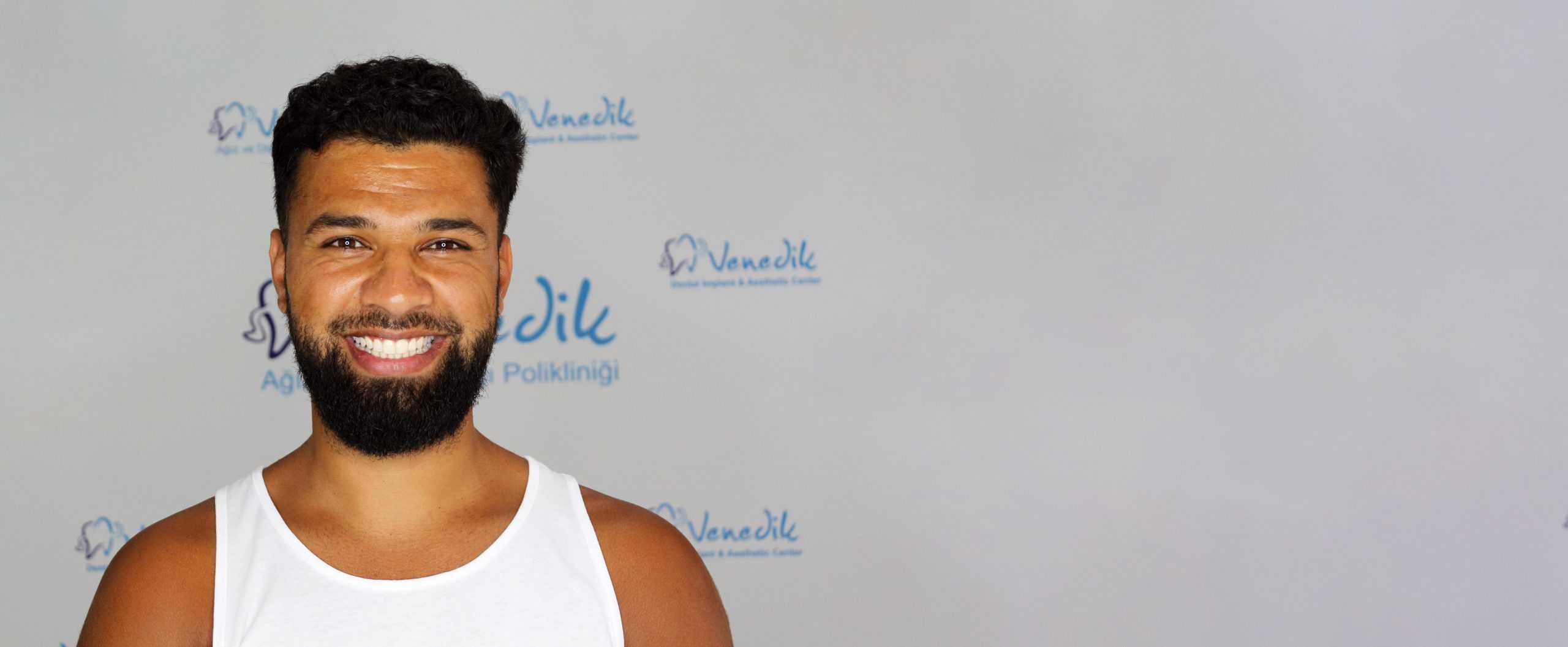 See the Difference
Why Choose Us?
High Standard and Best Quality
We provide detailed treatment plans and that ensure your process will be managed smoothly to achieve excellent outcomes.
All the equipments we use in our clinic are with the latest technology for best possible dental care.
Specialist Dental Team
All our staff are experienced, friendly, highly trained and treat every patient with the care.
One of the biggest compliments we can receive as a clinic is to be recommended to existing patients' friends and family.
Affordable Prices and Dental Treatment with Holiday Packages
You can save up to 70% compared to UK and EU, moreover you will have a vacation and enjoy your free time while you have your teeth done.
Our clients stories
Smile Gallery
Creating a beautiful smile can enhance a persons confidence and overall appearance.
Below are some of the examples that you can be viewed.
What People Says
Patient
Reviews
My experience with The Venedik Clinic has been superb!! I had 16 E-Max veneers, 5 root canals and 4 fillings. The treatment was absolutely outstanding and the Clinic is state of the art. Ahmet the dentist was professional and patient – an amazing dentist, Burak the interpreter was a credit to the Clinic, his customer service is 5 star *! The dental nurses were all so lovely and kind when I was in need of a little support.
All in all, I cannot recommend The Venedik Clinic enough. I did my research and feel 100% made the best choice. The hotel and VIP pick up was top class too. My teeth are awesome! I love them so much, everyone is amazed at the transformation.
Thank you all so much everyone at Venedik – as I told you all ..' You have changed my life!' See you next year with my daughter!! Thank you
–  Karen Dilks, UK
I came here to Venedik clinic to have my teeth done, my teeth were in really bad condition and I didn't think they could be fixed, Dr Umut has given me so much hope now for a beautiful smile again, I want to thank everyone for all their hard work and I would recommend everyone to come to Venedik clinic Antalya as they are very professional and the best dentists I have ever been too and I've been to a lot, they really care about their patients and have the most welcoming vibe and I'm so grateful for everything. I never felt as happy to be at the dentist. I have had 7 implants and I will have 24 zirconia crowns. Thanks again to Dr Umut and his team yous are lifesavers
– Arlene Mcelwee , UK
I honestly couldn't recommend these guys enough! They've literally changed my whole appearance and more so my life. My teeth feel and look amazing, and having had a massive fear of dentists and needles, these guys made sure every single procedure was done with you in mind, I haven't felt one bit of pain after having implants, root canals, teeth removed. Then to walk out with a set of pearls in less than a week is unbelievable! Absolute 10/10 all round. Professional clean and thorough. They do the very best for you with the very latest technology. They will not do what is not necessary. They care about their work and will not let you leave until 100% happy. They have a great reputation. The work I had done here was a quarter of what I would have paid in the UK. They do work also Into the early hours so don't be surprised if you get an appointment for any times!
I am very pleased with my new smile and care provided.
VIP taxis provided to and from your hotel at no extra charge. All work is guaranteed. Thanks
– Zack Oliver, UK