Laminate Veneers in Turkey
E-Max Lumineer Veneers
Laminate Veneers are thin shells of porcelain, which cover the front surface of your teeth improving the overall appearance.
They are made of the more advanced pressed ceramic materials such as E-max and can be chosen to:
Adjust poorly shaped teeth
Cover gaps between teeth
Get rid of internal stains
Restore partially broken/chipped teeth
Tooth shaving is minimal, between 0,3mm-1mm. After taking some impressions, the veneers are manufactured in the lab.
When they are ready, the veneers are glued to the surface of teeth with tooth-coloured resin cement.
2-3 visits are necessary to complete treatment in 1 week.
E-Max Lumineer Veneers are made from extremely thin ceramic to give you an all-natural look and can be bonded directly onto the teeth so the teeth needs to be covered are not shaved enamel.
The most considerable benefit of E-Max Lumineer is the ability of keeping your natural teeth and you can select the restoration option whenever you want.
How Are The Lumineer Veneers Made ? 
How the veneer process is done:
If you decide to go ahead with treatment, we'll take an impression of your upper and lower teeth without shaving or drilling, and send the mould to the laboratory with photos to give you perfect match for your teeth.
After a couple days, we'll try them on first to make sure they fit properly, and then each tooth will be bonded one by one.
What is the Lifespan of Laminated Veneers?
What is a laminated veneer? A veneer can be thought of as a shell that covers the front part of the tooth. It is tooth-colored and camouflages cosmetic imperfections. After getting laminated veneers, patients can have whiter and more aesthetic teeth. It is important that the procedure is performed by a professional.
Patients want to have a durable laminated veneer to keep their teeth looking good for many years. If a patient gets laminated veneers by a professional, with regular dental care, they can keep their veneers looking good and functioning for 10 to 12 years.
It is very important for patients to have a durable laminated veneer to avoid problems
Professional Laminated Veneers Clinics in Turkey
Having a professional laminated veneer is very important for patients. Because teeth directly affect how a person looks. For this reason, patients try to find the best dentists and the best clinics to address their dental ailments.
Venice Dental Clinic is one of the best clinics providing qualified, reliable and excellent dental care to its patients with the latest technology and the most qualified equipment. Venice Dental Clinic is proud to have experienced and caring dentists. It is one of the most preferred clinics for Laminated Veneers in Turkey.
Venice Dental Clinic offers its patients many services such as professional laminated veneers, root canal treatment, aesthetic smile design and dental implants. It is located in Antalya, one of the most beautiful cities in Turkey.
Why is laminated veneer preferred?
If the issue is discoloration or minor chips, laminates are a great option because it requires much less enamel shaving down.  For instance, someone with crooked teeth or who has gaps is much better off getting crowns that are more flexible.
How Durable Is Laminated Veneer?
Patients want to have a durable laminated veneer to keep their teeth looking good for many years. If a patient gets laminated veneers by a professional, with regular dental care, they can keep their veneers looking good and functioning for 10 to 12 years
Do laminate Veneers Process Painful?
No! Most patients mention no pain or discomfort at all during treatment. This is because the procedure is with minimally shaving the teeth down. The only preparation required for veneers is the removal of a thin layer of enamel from your teeth.
To whom can laminated veneer be applied?
Patients who have no missing teeth or quite straight teeth can get laminate veneer done.
Happy Patients (Testimonials)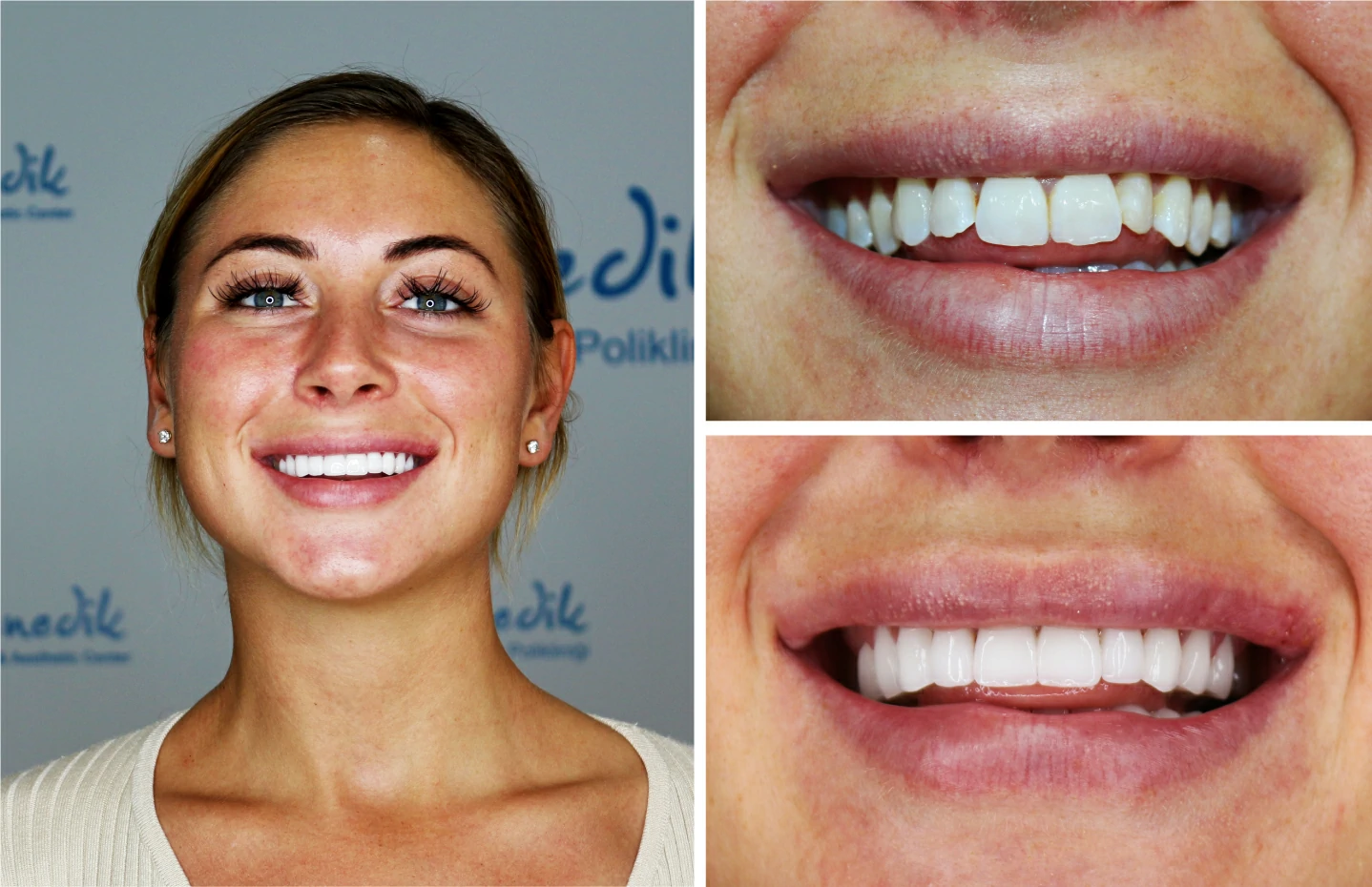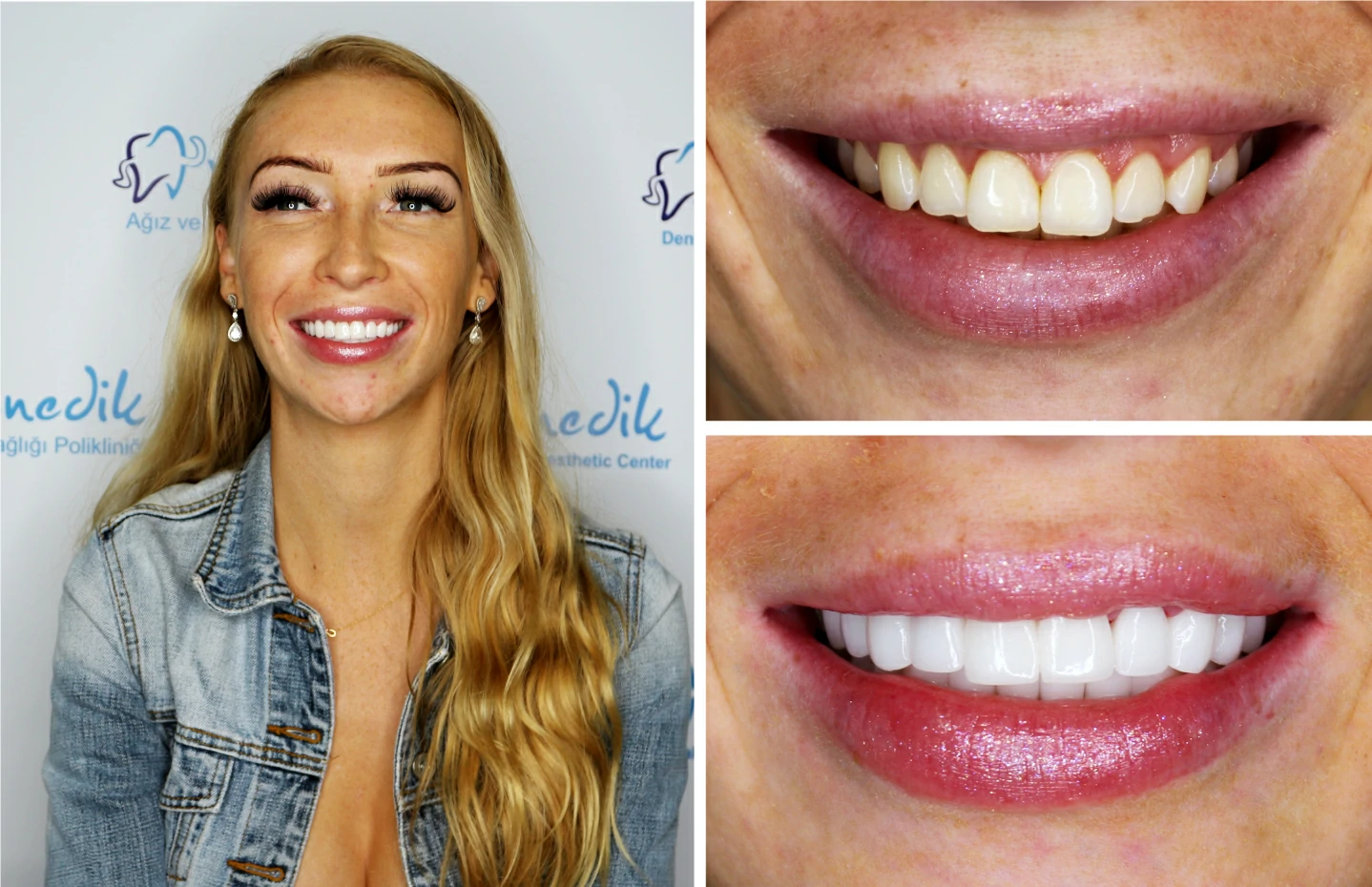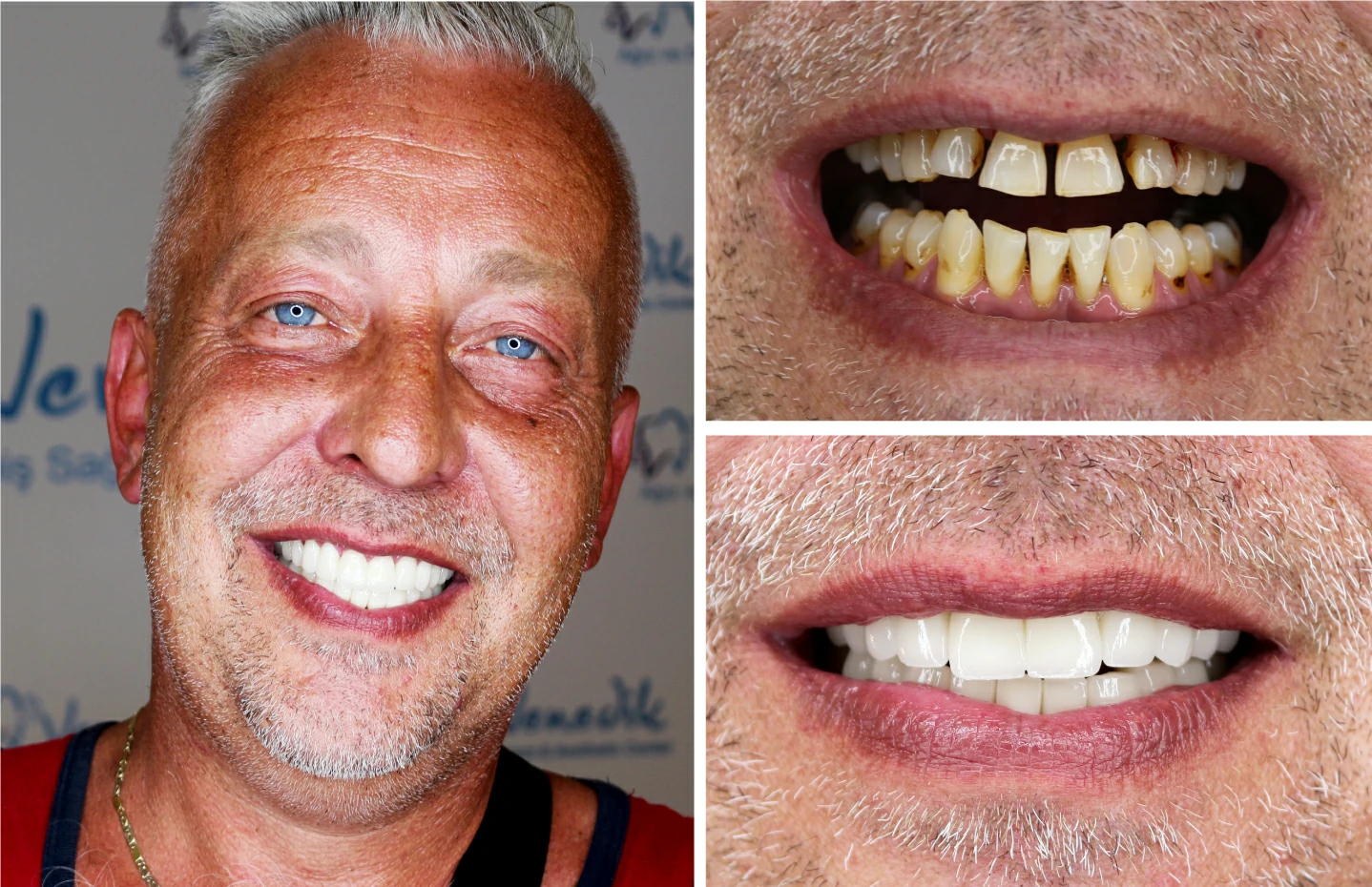 Would you like to witness the incredible change?
Turkey Dental Clinic Health Tourism
 T.R. Officially Approved by the Ministry of Health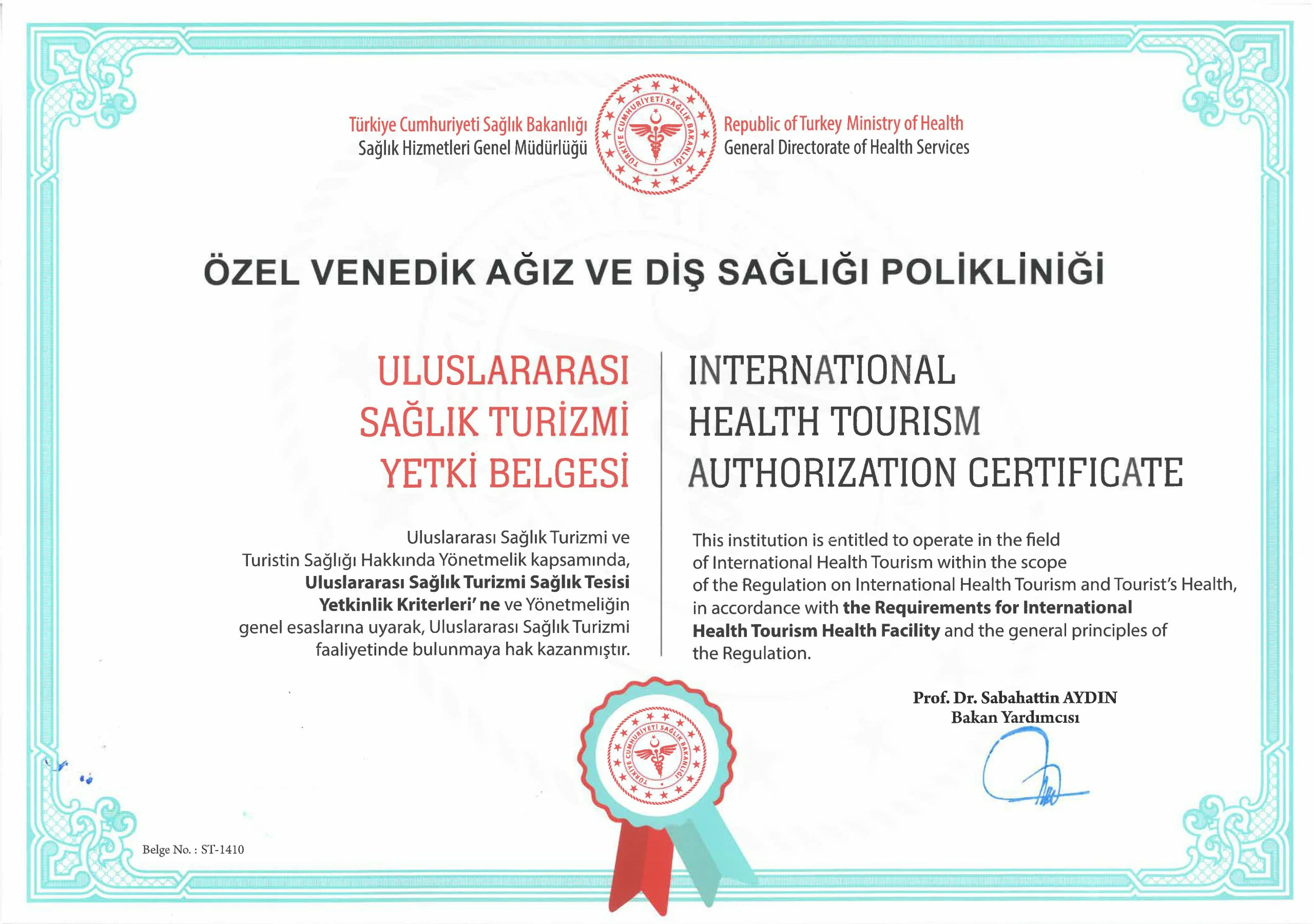 174 reviews on
profesione hizmet tebrikler
Sevgili hekimimiz Nazire hanim, onu asiste eden birbirinden profesyonel ekip arkadaslari, daga kapidan girdiginiz anda sizi sicak karsilamiyla gulumseten Selda Hanim.... Ogullarim da ben de hayatimizin en rahat, keyifli, endisesiz diş tedavisi surecini gecirdik. Nazire Hanimin dogru teshis ve tedavisine ine sonsuz tesekkurler...
The whole team around Dr. Atik and his assistant Ms. Güven were very professional and really very friendly. I am very happy with my new teeth. Everything is very clean and the entire clinic does a great job. I can warmly recommend the Venedik Dental Clinic to everyone. Thank you for everything!
Excellent service. I've had several different treatments with different dentists in Venedik team and all very professional, warm, welcoming and very good at what they do. Thanks for keeping me at ease and calm and always excellent at the treatments I've needed. My implants need to get healed and I will be back in 2 months. Thanks a lot, see you soon!
10 numara hizmet, güzel işçilik, güler yüzlülük.
volkan yöntemli
2023-07-03
I want to thank and highly recommend to everyone the Venedik Dental Clinic Dr. Ahmet Atik. The treatment is painless and quick with top doctors and surgeons. Staff are so nice and Helpful !Clinic Great Location! Heart of Konyalti very convenient place. Everything clean and hygienic ! Which was most important part for me! They deserve definitely 5 ⭐️ABSOLUTELY LOVE MY NEW Smile 😃
I have recently returned from Antalya where I attended Venedik Clinic for a pre-arranged appointment. On my first visit to the clinic I was greeted warmly and given a thorough dental examination in the very modern premises. After my X-ray had been perused I was invited to meet with the manager who discussed with me options for treatment. I followed the advice given and agreed a treatment plan. Next day I went for preparation treatment that included eight root fillings and the preparation of my teeth for crowns. This treatment was for an extended period but I experienced very little pain and minimal discomfort. Indeed, dentists and staff went to considerable lengths to ensure I was comfortable and as pain free as possible. The day ended with moulds being taken in preparation for the making of crowns. Two days later I returned for the initial fitting and minor adjustment session before the crowns were returned to the laboratory for finishing. Next day my crowns were fitted. The result was, for me, astounding. I have very presentable teeth! Above all, I was grateful for the exceptional care provided by everyone at Venedik; at all levels I was greeted with smiles and great kindness; the gentleness of the treatment was quite exceptional. I commend the Venedik Clinic without reservation.
Очень классная стоматология:чисто,квалифицированные специалисты,вежливый персонал.Год назад с мужем ставили здесь виниры,все сделали четко и быстро.Ставил виниры нам владелец стоматологии-мастер своего дела!Виниры выглядят потрясающе и никаких проблем.Большое спасибо "Venedik Dental Clinik"💯
Contact Us Now and Let's Create Your Treatment Plan